Travel around the world has increased over the past decades as countries become more interconnected, cost is more accessible, and transportation systems incorporate new technology. In fact, The Guardian's feature on global tourism mentions that 2018 saw a record of 1.4 billion international tourist arrivals, causing the tourism industry to grow to $1.7 trillion in value.
While the industry took a hit during the past two years, it's quickly returning and expected to recover within a few years. Travelers are beginning to take trips again, and for those who enjoy exploring new places or visiting loved ones abroad, it's a cause for celebration. If you have someone special in your life who's about to head off on their next voyage, make their trip extra special by giving them a unique and personal gift for their travels.

As explained in our How to Give Gifts People Love post, you'll first need to understand the recipient to know what they like and dislike. Travel pillows and luggage tags are outdated generic gifts to give travelers, so we'll help you with some more novel ideas that most folks will truly appreciate as they travel.
As you read along, ask yourself questions about your giftee to hone in on someone extra special. For instance, do they love coffee? Do they complain about their time at airports? Since you're reading this article, you're bound to find something they'll love! Here are some gift ideas to inspire you:
Power Bank
The last thing any traveler needs in this day and age is for their smartphone or other electronics to die. An extra portable power supply is always useful to have, though some are better suited to trips than others.
Traveling well means that every corner in your bag and notch on the scale counts. Consider finding your recipient a compact and lightweight power bank that will serve them well for years.
Anker is a well-known electronics company that specializes in power banks, and they offer some great models. Some of their lightweight options include their Astro E1 5200mAh, which provides a typical smartphone with nearly two full charges, and the Powercore 13000, which can charge an iPhone multiple times.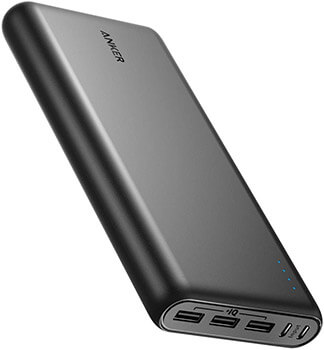 Another great powerbank to consider is the Charmast 26,800mAh since it has an enormous capacity to charge a phone or game console several times — a great consideration for gamers or those traveling to places without reliable electricity.
A good power bank ensures that your recipient doesn't have to worry about their gadgets failing them when they need them the most.
Scrapbook
If your recipient loves arts and crafts as much as traveling, consider gifting them a scrapbook. Taking photos on phones and cameras is how people capture memories nowadays, but having something physical to store those memories in makes them all the more special.
Scrapbooking is a great way to express creativity, and your recipient will also be able to put memorabilia such as train tickets or small pressed leaves and flowers from their destinations. You can give them a blank base album then cross off some items from The Spruce Crafts' list of scrapbook must-haves, such as cardstock, pens, and embellishments, that they can use to design the scrapbook with.
As a bonus, think about going old-school and pairing a scrapbook with an instant camera like the Instax Mini so your traveler can immediately stick their polaroids in.
Portable Coffee Maker
Coffee doesn't cost the same around the world — a typical cup of black coffee in the U.S. is $2.70, while Switzerland's usual caffe crema costs $4.64. Trying coffee around the globe is fun, but if your recipient functions on coffee throughout the day, it can get expensive. So you can help them cut back some costs by getting them a compact and lightweight coffee maker.
AeroPress is a famous brand for coffee brewers, and with the release of the AeroPress Go, you can get the same great cup of coffee from a machine that's barely bigger than a coffee mug. What's great about it is that the brewing method is customizable, so the user can experiment until they get the brew that suits their taste.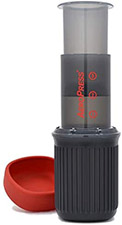 Travel Insurance
Traveling involves a lot of planning, but unforeseen challenges almost always pop up — this makes travel insurance an extremely helpful gift. A post on AskMoney that focuses on buying travel insurance mentions that the most popular type of travel insurance in the U.S. is the Cancellation & Interruption Protection. This covers non-refundable costs of a person's trip in case of emergencies, such as illness or financial issues.
Pricing for travel insurance can vary greatly, depending on the provider and coverage you choose. For instance, Seven Corners' RoundTrip choice offers superior coverage, from medical expenses during the trip to baggage loss coverage of $2,500 per person, for only $478. SafetyWing is another good choice for those traveling long-term.
Getting your recipient travel insurance gives them peace of mind since it protects their financial investment in the trip from unforeseen events. Just make sure to check the travel dates and see that they're covered by the policy.
Airport Lounge Pass
Whether you arrived at the airport early or are there for a layover, it would be nice to have someplace comfortable to stay away from the bustling airport crowds. An airport lounge pass will give exactly that. The New York Times' write-up on airport lounges shows how these places are great for individuals and families alike.
There are complimentary snacks and drinks, which is a huge relief compared to the airport food courts that have mark-ups of up to twice the price of the same bottled water outside the airport. Some lounges also have spa services and showers for freshening up and relaxing before a flight.
A well-known company that provides airport lounge passes is PriorityPass, which gives the user access to at least 800 lounges worldwide. For just $99, you can already get your recipient a year's worth of lounge access.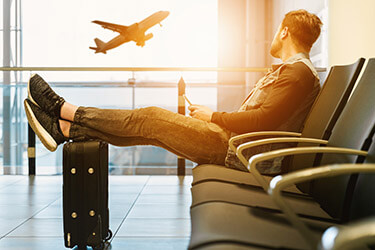 Traveling offers memorable experiences. But you can make the experience better by giving your loved one a thoughtful gift that they can use, from something they can pack in their luggage like a power bank to something as practical as a travel insurance policy or airport lounge passes.

For more travel gift ideas, check out these Cado guides.