After 25 years of marriage, it may be hard to come up with the perfect gift for your spouse or the celebrating couple. It's easy to want to find something a bit more monumental to celebrate the silver anniversary. These inspiring gifts will give you that "ah-ha" moment during your gift search.
Lean into the silver anniversary with a silver-plated rose that'll last forever. These special roses have their petals, leaves, and stems dipped in silver to capture the beauty of both the silver and the real rose forever.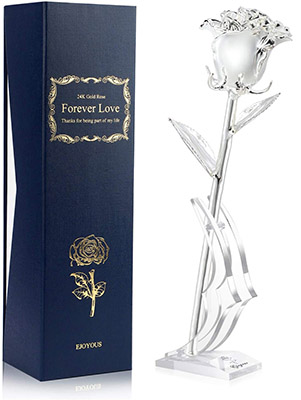 A photo album is a great way to show you care. Collect your most meaningful memories in photograph form from the first date through the last vacation. Show that you haven't forgotten a single memory that's been made. If they're particularly sentimental, make sure to have tissues on hand because this is sure to garner a response.
Twenty-five years includes a lot of morning cups of coffee. Most people enjoy a good hot beverage, and fun mugs are becoming increasingly popular. Get a couple's mug set so that even your mugs are in sync with one another. It's cute and a little corny all at the same time. If either party enjoys matching, this is the perfect gift.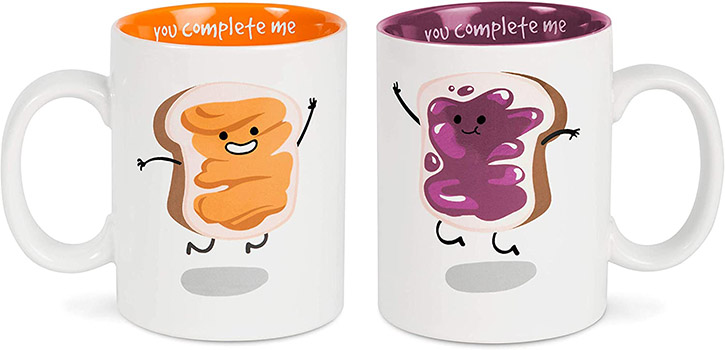 Grab a personalized Four Across (Connect Four) game that includes both names and the wedding date. If there's going to be an anniversary party, this full-sized lawn game is a great choice. If you're looking for something a little more compact for everyday use, there's also a tabletop version. Either way, it's a great way to spend time together as a couple and is sure to get lots of use and smiles throughout the years.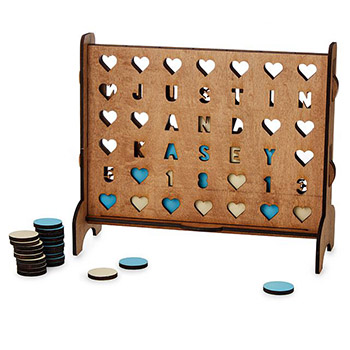 Whether you've moved far from home or are just looking to relive a significant trip such as your honeymoon, a Homesick Candle is a meaning gift. There are scents to represent different states and cities from around the world. Make your current home smell like a place that you'd like to relive together without having to move there.
A personalized pushpin adventure map is perfect for the well-traveled couple. It comes with 100 pushpins to mark the locations traveled together. Add each new adventure to the map and see how much of the world you've seen together. It's a great statement on the relationship and an elegant wall decoration.
Reel viewers are a nostalgic childhood toy for many. Instead of viewing whatever cartoon characters or nature scenes used to be inside, create your own showing off important memories from varying times throughout your years together. You can add on additional reels for significant moments, vacations, or to commemorate ranges of years at a time. This is sure to be a sentimental surprise.
The avid wine drinkers will love a personalized wine serving tray. It'll have the couple's last name and the year that they tied the knot. The elegant wine tray can hold 4 stemmed wine glasses and a 750ml bottle of wine.

This family tree wall art starts at the tree where the couple's initials are engraved. It includes 11 hearts to add descendants which is a beautiful way to show the family the couple has built together. This is the kind of gift that's sweet from a spouse or child who wants to show how much family means to them.
If you're not into personalized gifts but still want to find some nice art that celebrated the occasion, the Sea Of Love wall print is a sweet gift. Whether you're shopping for an art enthusiast or someone who just adores the ocean, this is a sweet piece of art that works in any room of the home.
Cheese is loved by many, and is also known as an aphrodisiac. A Written In The Stars Cheese Board is the perfect gift for the cheese or charcuterie enthusiast you love. It includes both people's initials and the year you got married. The visible constellations from the night you were married decorate the majority of this sentimental cheese board. It's meaningful yet still relatively subtle.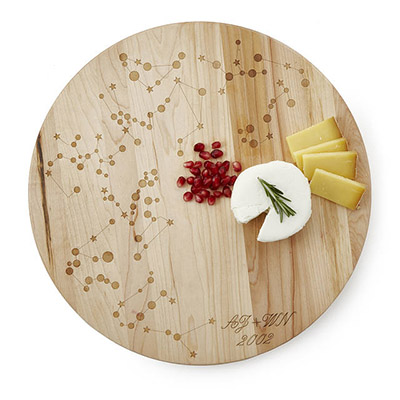 Finding the perfect gift after 25 years of marriage doesn't have to be as difficult as you think. Just make sure that the gift truly comes from the heart! Hopefully these ideas are an inspiration for you as you celebrate a silver anniversary, an occasion to celebrate love and reflect on 25 years together.